BGD 157 and BGD 158 series Programmable Viscometers are very helpful for R&D researchers, besides can measure the sample viscosity under a certain speed and rotor, operator can set different shear rate, shear stress to fully know the sample rheological behavior.
Features
◆ Display sample shear rate and shear stress
◆ Continuous viscosity testing and sound alarm when beyond measurement range
◆ 7 inch high definition touch scree , easy to operate and display rich information. Powerful human-machine interface and various humanized operation menu for conversion.
◆ Anti-static shell and PC material lifting pole
◆ Build-in temperature probe RTD
◆ ARM chip processor: higher data processing speed
◆ New designed durable small axles
◆ Come with a gigabit ethernet interface to transfer data, reliable and quick.
◆ Come with USB interface, support operate to save measurement through external disk U: single point, continuous and timed saving ways for option.
◆ Come with RS 232 interface, can print measuring data by mini-printer with less labor.
◆ Calibrated by user, temperature and viscosity correction factor are protected by password, also can be modified by user when they have reliable and accurate data.
◆ Convert freely between various viscosity units , dynamic viscosity convert kinematic viscosity automatically
◆ Linear calibration by a computer
◆ Power supply: 100V-240V, powerful anti-interference
◆ Accompanied with detailed operation instruction
◆ Professional BGD 1608 programmed analyse software for option, can display sample rheological curve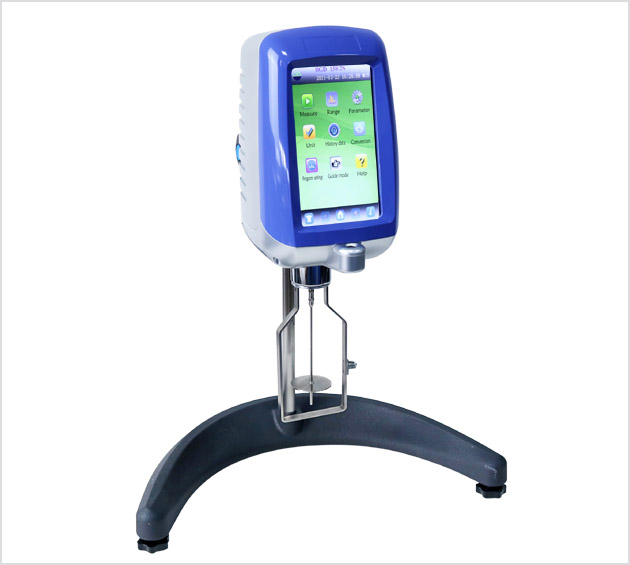 BGD 158-2S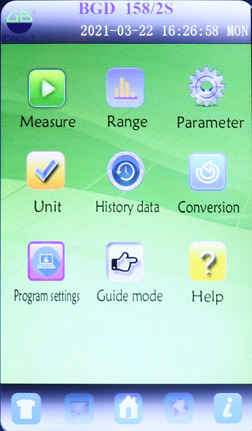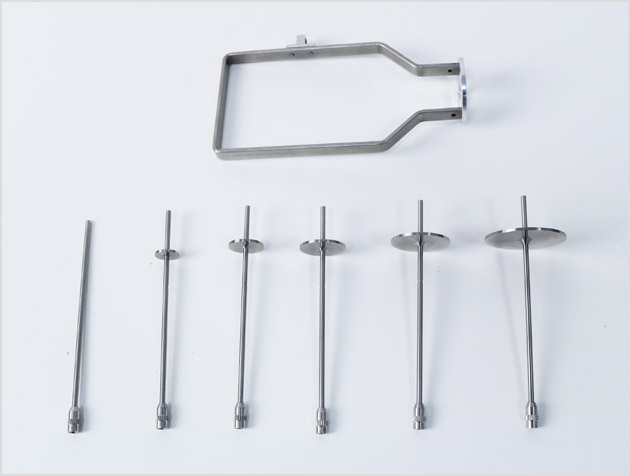 Rotors
THD Series----Low Temperature Thermostatic Bath
BGD 1600----Standard Oil(500ml)
BGD 1601----Low Viscosity Adapter(The 0th rotor and can measure 1.0 mPa.s sample)
BGD 1602----Small Sample Adapter(It's specially designed for customers with small samples and requires only a quantity as small as 5~18ml;Sample cup is easily cleaned, installed, removed, and observed;Accurate data of shear rate and shear stress can be obtained for a minute analysis of the fluid characteristics of the sample;One-off sample cups are available)
BGD 1603----Mini Single Color Printer
BGD 1604----RTD Thermometer(-20℃~120℃)
BGD 1605----Thermoses(It has been designed to accurately measure the viscosity of heated oil, paraffin, asphalt emulsions, medicine, high polymer and similar liquid materials at high temperatures. It allows control of a sample's temperature at a range of room temperature +300℃. It can program the intelligent thermostat and ensures its temperature fluctuation within 0.1℃. Sample dosage is as small as 10ml, and one-off sample cups are available. Standard type of SC4 spindle can be applied, which is easy to use)
BGD 1608----BGD 157-158 Viscometer data collection and programmed analysis software(Automated data collection and testing; resulting in viscometer graph, and recording measuring data each time;Allowing comparison of at most 10 history data;Output Excel documents;Programmable downloading, Offline working;Analyses data, draw charts and print)